Weatherford, Texas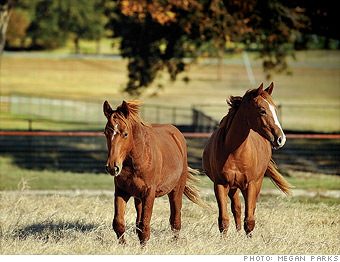 Population: 25,200
% over 50: 31%
Median home price: $150,000
Top state income tax: None
Cost of living index: 87
As the Dallas/Fort Worth metro area expanded over the past couple of decades, many communities were overtaken by McMansions, shopping centers, and congestion. But Weatherford, 33 miles from Fort Worth, has maintained its own identity — which is all wrapped up with horses. Specifically, cutting horses, which herd cattle and perform in exhibitions.
Dozens of professional trainers can be found here; residents can catch horse-cutting events at the nearby Silverado Arena or saddle up and canter out on the 26-mile trail that winds through the countryside.
Those not into equine pursuits can enjoy the laidback vibe of Weatherford's charming downtown, which includes a recently restored courthouse and boutique shops. There's also boating and fishing in Lake Weatherford — though the severe drought conditions that have gripped much of the state this year have made such recreation difficult (and forced the town to impose limits on water usage).
Here you can live in a Victorian house — or on a sprawling ranch. The affordable wide-open spaces, plus the lack of state income tax, are a big draw for retirees.
See complete data and interactive map for Weatherford
Reference: